TORAY PLASTICS MALAYSIA SDN BERHAD
A subsidiary of Toray Industries,Inc. Is the world's leading manufacturer of engineering plastics, synthetic fibres and textiles, high performance films. We are the first company in the market to manufactured transparent abs which branded under TOYOLAC™ and sales to the global market.
In 6 Dec 2018, Toray Industries, Inc (TORAY Headquarters, Tokyo Japan) had announced the crucial decision to boosted TOYOLAC ABS resin production capacity to TORAY PLASTICS MALAYSIA by expanding a new production line (MT-7) & which named the plant as TORAY PLASTICS MALAYSIA 3 (TPM 3) along with a newly added facility which could yield 75000 metric tons of resin annually to meet the market demand for our high-performance commodity "Top 1 global market share on MABS" by TOYOLAC MABS.
Full-Scale Commercial Production of TOYOLAC ABS Resin at the New Facilities set up at Toray Plastics (Malaysia) Sdn. Berhad in Penang, Malaysia
Tokyo, Japan, August 17, 2021— Toray Industries, Inc., announced today that it has boosted Toray Group worldwide production and distribution capacities of its renown TOYOLAC™ Acrylonitrile Butadiene Styrene (ABS) resin transparent grade, through its latest facilities set up at Prai Industrial Park, Penang, Malaysia.
The modern plant set up at its new facilities at Prai has boosted Toray Plastics (Malaysia) Sdn. Berhad, TPM's ABS resin production and distribution capacities by 75,000 metric tons, to 425,000 metric tons annually. Taking into accounts the ABS production output at the Chiba Plant in Japan, Toray Group is now capable of churning out some 497,000 metric tons of ABS to the worldwide markets annually.
The diverse TOYOLAC™ range produced by Toray includes transparent grades ABS, offerings improved anti-static, scratch and chemical resistance properties. To boost sales in its key Chinese and Southeast Asian markets and in anticipation of the rising demands from Europe, the United States of America and India, Toray look forward to increasing its worldwide production further, including the facilities at TPM.
Toray has made expanding globally in growth areas a central strategy under Project AP-G2022, its medium-term management program. The company accordingly aims to capture rising demand for transparent ABS resin and enhance supply stability by reinforcing collaboration between the Chiba Plant, our mother plant in Japan and Toray Plastics (Malaysia) TPM.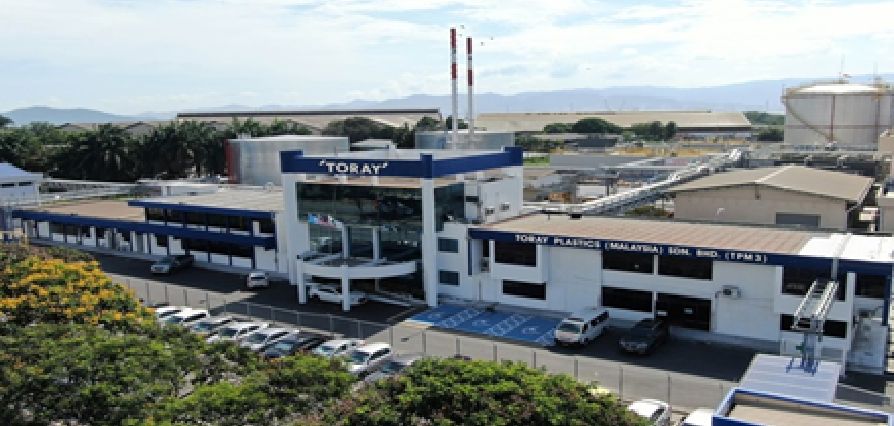 Profile of Toray Plastics (Malaysia) Sdn. Berhad
1. Business: Manufacturing and distributing ABS and polybutylene terephthalate resins
2. Head office: Penang, Malaysia
3. Establishment: July 1990